​Five years ago, our family lived in what I thought was my dream, "forever home" in Michigan. We were all healthy, financially safe, lived among friends & fam, etc. Therefore, we could check all the boxes that screamed:
"Life is GOOD!" ✅
You know what?
Life really was good back then…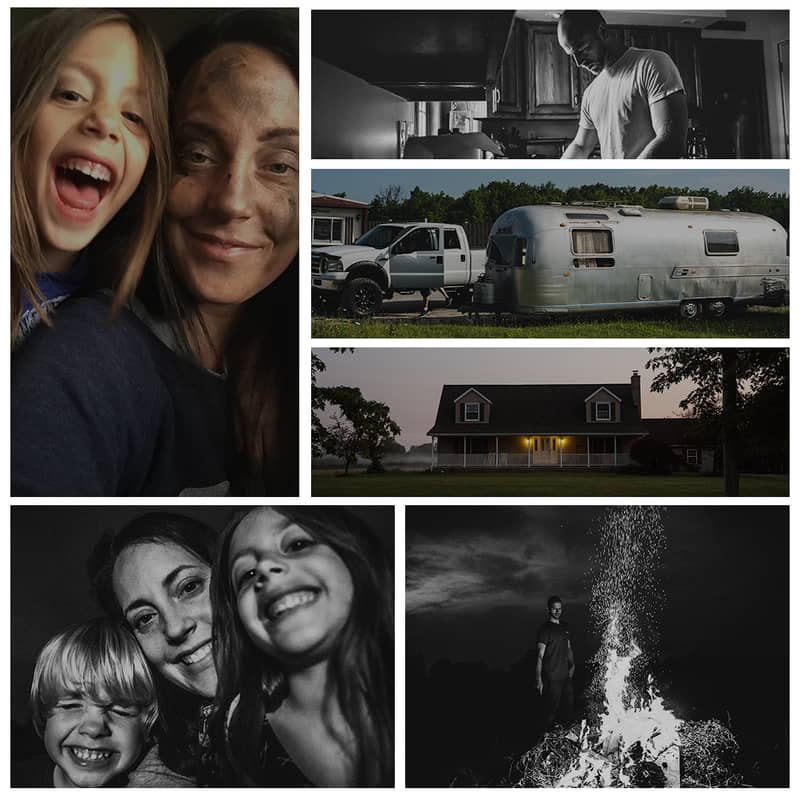 (see?? awww the memories…)
…and also not so much.
Some of my gratitude was "guilt appreciation." Meaning, I believed I "should" appreciate this or that, so I decided I did on the surface. Inside, there was always this whisper of: "It's not supposed to be like this."
And also, "Well, that's life. Learn to love it. And also, you have everything. Anything else is selfish. Grow where you're planted."
I kept my dreams small, but the restlessness was fierce. So, in 2016 I thought, "Maybe we should buy an airstream, unschool the kids, & travel the country full time!" We went out and got the Airstream, but never camped in it once. (#flop)
Long story short, unlearned what I thought was intentional living, examined my beliefs, and explored my desires…
…with lots of talks with Dave on all of it (he was like "🙄not again🙄" many, many times, so bless him for entertaining my "meaning of life" convos LOL)…
…and I used this unearthed self-awareness to make big, QUICK moves. Ain't no one got time to hmm and haw life away—we moved fast. These moves were aligned with honest answers to what seems like a total "omg, she's living her best life!! 🤣" cliche.
I'm sharing everything in my new thing: The Life-Brand Method (you'll find out more on Tuesday!), because:
I can no longer watch you simply "survive," settle, play small, or tuning out your unrealized dreams for anymore sleepwalking or scrolling through life.
I want you to live. Really LIVE.
On your terms.
And if you're in business, I want the overflow to surge into marketing that feels more YOU. 💃🏽🕺🏽
Today, I live on a small mountain in the Blue Ridge Mountains (South Carolina) that we lovingly call, "Masse Mountain."
I wake up everyday in a literal vacation destination and practically have to pinch myself, "I really live here?!" It's not the location (you don't have to move like I did!), it's the LIFESTYLE.
"Masse Mountain" is what I call my own Life-Brand.
(pronounced "moss" btw)
Every decision I make is ran through this "Masse Mountain" filter.
EVERYONE NEEDS THEIR OWN LIFE-BRAND FILTER to fully thrive in life. Living intentionally and on purpose isn't as simple as "setting intentions." You have to do the inner work and create "branding" so to speak. Those of us in business design our biz brands upon certain beliefs, missions, and values. It's in the words we use, the stories we share, the purpose within the mission, and the feeling you get from our colors and fonts.
And yes… it evolves and expands as you grow. It's a set of guiding principles that acts as your north star when you have a zillion ideas, options, roadblocks, and self-sabotage traits (we've all got 'em).
My "Masse Mountain filter" has successfully influenced how I show up in the world with confidence, where we live, the education style we chose for our kids, the way we partner and love in our marriage, the way I continue to learn and grow, and so much more.
I want that for you… on your own terms.
You will create your version of this—QUICKLY (not months and years, like me)—with the Life-Brand Method™, so that you're ready for this next season, next year, and beyond.
---
Hey Storyteller... Pick one and pass this onto a friend: