What was your Top Tiny Story of 2020?
By that, I mean:
What's your top story that moved your heart and changed you in expected and unexpected ways?
A story that'll stick with you forevermore and defines: MEANINGFUL?
I know… loaded question!
I'll go first.
Marie's Top Tiny Story of 2020
For me, it was the mid-July night when I was in my bed, ready to go to sleep, and unexpectedly received the most validating text message of the year (maybe ever). 
My daughter camped outside on our little mountain—in the forest—by herself for the first time. Isn't she cute?
She had her iPad out there just in case she needed to reach me.
Completely unprompted, she texted me this: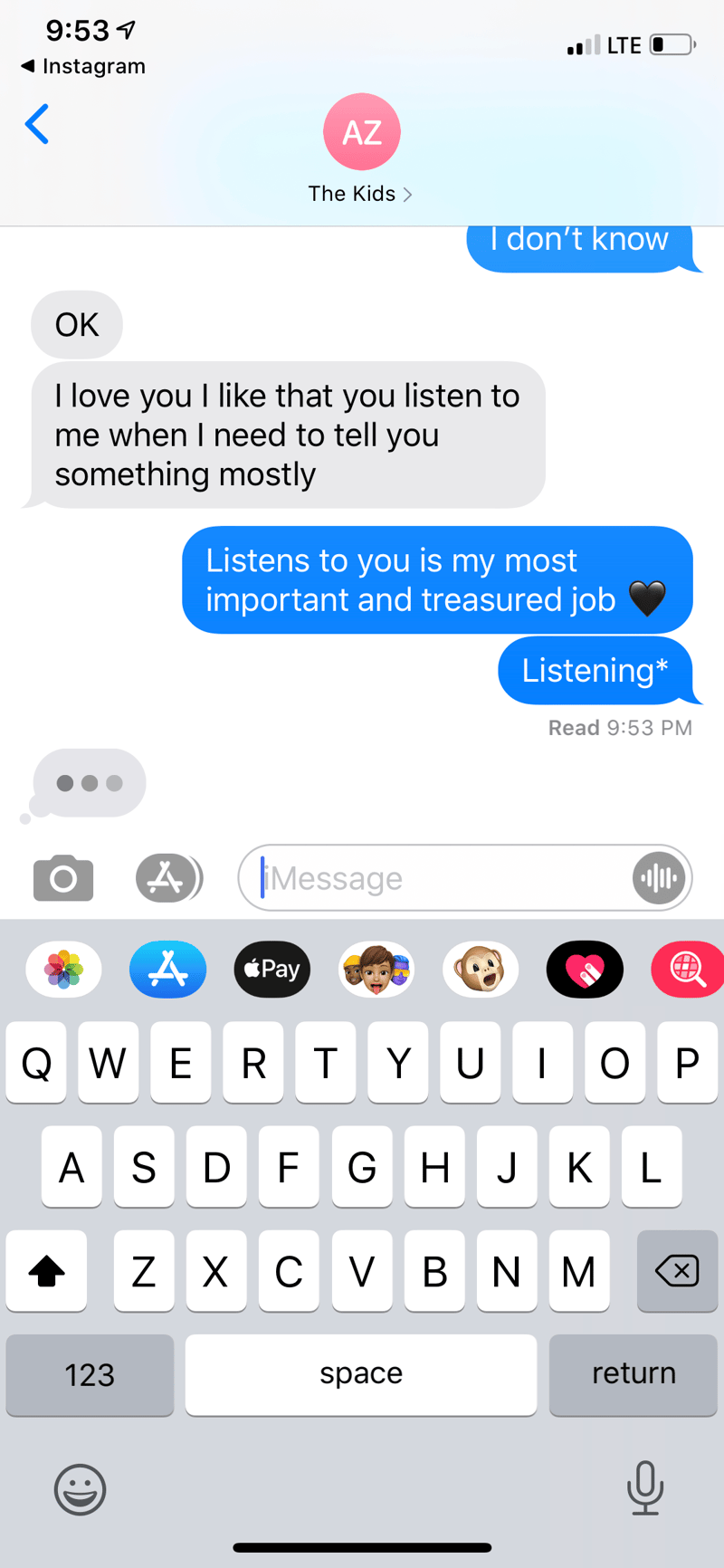 Those words:
"I like that you listen to me when I need to tell you something mostly"
😭🥰😭🥰​😭🥰​
An indicator that this story matters is that it represents one of my core values.
For context, I don't just want to be a "good mom" who raises well-loved kids that grow up to be happy. I mean, want that too, obviously.
I want to be the mom who's kids can and want to tell them everything. 
It's one of my core values in parenting. I want my kids to fearlessly come to me with any and everything on their heart.
I want my kids to go independently live and experience their life… 
…and, then, almost in a reflex think, "I've got to tell my mom about this!" in an exciting, energetic way.
It's not about being a mom that's liked or needed. I don't want to be anyone's crutch!
Instead, to me, that "I've got to tell my mom about this!"​ response is a way for me to measure my success in making my kids feel:
unconditionally loved, 
fully seen, understood, and valued exactly as who they are,
and to believe to the core that "mom" (for them) means a sanctuary for belonging.
But wait, there's more!
This value didn't come out of thin air. It stemmed from a relationship I witnessed and thought, "I want THAT!"
My friend, Mariah, has this sort of relationship with her son. He's around 21 now, but I've noticed their relationship since he was like 6-years-old.
Years ago, she gave me the advice to actively listen to them… not to offer opinions, advice, or to even really react to what they're saying. 
Just actively listen, unconditionally, and they will keep coming back to tell you everything.
Thank you, Mariah. Your advice is working 🙂 
So, that was my Top Tiny Story of 2020…
I hope you're reading between the lines here.
Your tiny stories are a result of those fleeting, seemingly insignificant things you notice, your values, and so much of your day-to-day that's practically unnoticed… and then they pop up as tiny stories that are really the big, defining moments of who you're becoming and the life you're creating.
Find your Top Tiny Story of 2020
First, I want to hear about it! Please DM me or email me. I'm listening and revel in hearing your tiny stories.
A few ideas for coming up with your Top Tiny Story of the Year:
Don't overthink. Go with your gut.
The story I shared was literally the first thing that came to mind when I thought of the most meaningful piece of 2020 for me.
If that doesn't work…
2. Here's few more questions I love asking at this time of year—answer these for yourself: 
What story did you expect from this year that didn't unfold as expected?
What was the most delightfully unexpected story from this year?
What story/stories did you notice the most this year (Hint: check your thoughts), that potentially could be causing you to overlook other stories?
What stories ended this year?
What stories began this year?
What stories are you looking forward to cultivating in the upcoming year?
3. Another lens to unearth your Top Tiny Story of the Year is through using the Top 9 strategy.
I used the free Top 9 app (click here) to see my Top 9 Instagram posts of 2020.
When I saw this, I realized how we had a bunch of tiny stories that—when strung together—gave me the words "coming together" to describe 2020.
Many things have been coming together for us (my family). Not in the money, building a perfect home, goal-oriented way, but in the way of how we see and love each other.
Reading between the lines: Notice the synchronicities in your tiny stories.
I've loved the shifts from this year—and say that with weight in my heart for all of 2020's hardship.
Our family saw each other and championed each other in our individual passions:
⇢ Me and my cabin for all creative things, coziness, and the comfort I find in the forest.
⇢ ​Levi and his love for lumberjack things.
⇢ ​Kendall and her imagination and the worlds she loves to create in her mind. If you've ever read "Year of Yes" by Shonda Rhimes and think of her little worlds, that's who Kendall reminds me of.
⇢ ​I accuse Dave of losing his self-permission to dream & create a life he wants. He tells me that making us happy IS his dream. If that's true, he's succeeded in every way.
Before 2020, we were moving too fast to notice… much less to respond in meaningful, loving ways.
But this year, this particular area of our life kept coming together in expected & unexpected ways. <3
Back to you:
So yeah, what was your Top Tiny Story of 2020?
Share in the comments or in a DM.
You owe it to this one life you're living to pause, notice your stories, and to revel in them!
Here's to many more tiny stories in 2021 & beyond.
Keep your tiny stories front & center. USE THEM to call fulfillment and meaningfulness into your life: click here and I'll guide you through.
---
Like this?
Bookmark to repeat the process next year by pinning this:
Hey Storyteller... Pick one and pass this onto a friend: