QUESTION:
How are you celebrating and noticing your impact?
I'm talking the impact of your unique gifts & talents (aka how you best serve others). That could be in your day-to-day, your products, programs, or services, or in your creative expression—anything!
Do you keep moving or do you take notice + pause to celebrate in some way? If you celebrate, I'd love to know / see how, so hit reply p-l-e-a-s-e.
I've always been in awe of those who:
can visually pinpoint where in the world they've made an impact,
know the exact number of total customers they've served,
or how they celebrate each new customer as they join their program (like Alex Beadon writes names on post-it notes and makes a giant, heart-shaped wall in her office).
With Fearless and Framed, I felt like I missed the boat when I became aware of these ideas. I'd already served a couple thousand customers. Not that you can't start celebrating later—I just never did.
Fast forward to today…
Once my internet browser loads the proofing page, I'm about to order 100 copies of THE PLAYBOOK in print!!
🎉🎉🎉📝 ✨🤯✨😱✨🎉🎉🎉<< the true sequence of my emotions on this project
I'll tell you more about that later, but once I have this baby in hand, I'm envisioning the Dangerously Good Stories Practice making an impact around the world.
After all, it already started back in December when 20 courageous creatives committed to live awake by unearthing + repurposing their personal stories to use in their life & business. There's members from North America, Germany, the Netherlands, and more!
(Thank you TSS members!)
This time, I want to pay attention.
I want to hold the impact close and SEE it.
You with me?!
3 ideas to inspire your own noticing + celebration practice:
1. I plan to celebrate the impact of the Tiny Story Society as our community grows and The Playbook is mailed around the world.
HERE'S HOW:
I bought a world map.
I was going to buy thumbtacks and pin the countries of my members… but I found something better:
A scratch-off, gorgeous watercolor world map!
Thanks, Etsy.
I cannot wait to hang this on my wall, probably frame it, and scratch off the location of every Tiny Story Society member!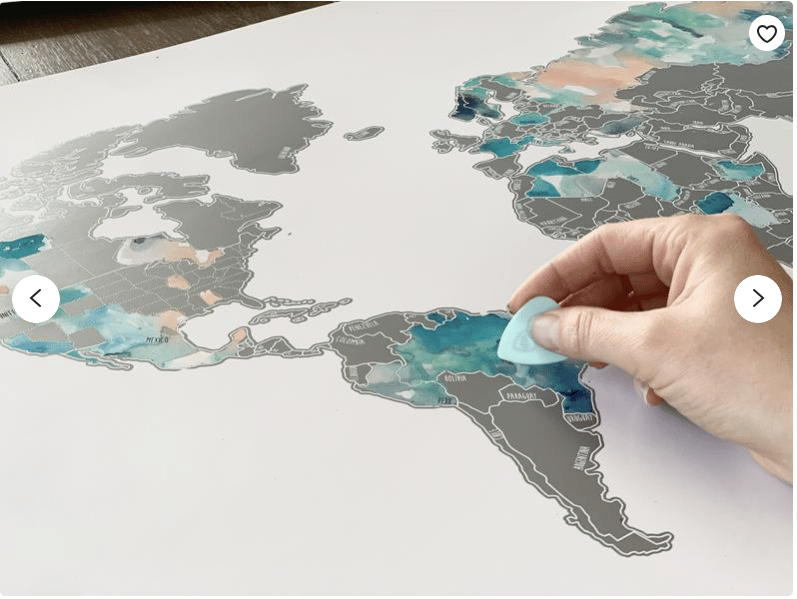 2. I'll take better notice of the success stories of the Tiny Story Society success stories.
Since creating The 5-Part Practice back in 2017, there's been SO MANY stories of people who created meaningful connection and FUN, how their day-to-day awareness has skyrocketed, how they've preserved a meaningful story they'd overlooked, and more.
The marketer in me has been quick to transform those stories into success stories for potential members. Or, I might tell a friend about the success someone's had. Then, back to work.
A few of the big stories have stuck in my memory, but a lot of time… I move so fast that it's in one ear out other.
Out of sight, out of mind.
I forget.
I'm a creature who LOVES validation, so when I forget the impact The Practice has made… that's when the mean girl, "What are you even doing?" voices rise.
So, moving forward, I'm created a Chatbook that's 100% dedicated to success stories.
I wrote about 15 Great Additions to Your Phone Photo Books awhile back. You can see in that article how I've captured phone screenshots from all over and printed them. They've been great, but now I want something dedicated to the these particular stories.
Someday in the future, when the Chatbook is filled and printed, what a powerful, tangible way to feel your impact, right?!
That's my goal.
I picture myself adding one page at at time and how wonderful it will feel doing so.
3. I'm using celebration as momentum for my current business goal: to get visible.
I've loved the LIFE this pandemic has given me. Business was once my #1 priority and I knew *exactly* what I needed to do next. Today, I'm struggling to feel connected to what I need to do next for my business.
Knowing I'm about to receive a shipment of 100 Playbooks, I want (and have) to keep my business moving. I joined Visible Impact with Anna Frandsen, so I can spend 6 weeks working on my visibility—with someone else telling me what to do next.
Plain & simple, this boss needs a boss right now.
I took my own thinking out of the equation, so that I can just show up on purpose.
In week one, Anna had us create our strategy and asked us how we'll celebrate our progress. I'm pretty great at making my desires happen. Meaning, it's hard for me to say, "I will write 3 newsletters and then treat myself to a cookie."
Most likely, if I set a rule like that, my brain will respond with, "No. Marie, eat the damn cookie first. You're worth it. You deserve to lean into your wants FIRST."
To shake things up a bit, I decided to scare the sh*t out of my kids each time I write a piece of content. 😂🤣😂🤣
Why is it so fun to bug the kids?!
I'll be nice about it, of course. I'm not going to horrify and give them nightmares…. just make them jump out their skin and question my sanity 🤪
I'm gonna get loud, turn music on, do a happy dance, and CHEER the fact that I'm DOING MY DREAM WORK! 🥳🥳🥳
I want to model what it looks like to *really* work your dreams. They don't understand it when they just see my back at the computer… so… I'm gonna get LOUD about it….
This J Lo song might be necessary.
So there you go.
Three ways to take notice & celebrate the impact of YOU.
Comment below & tell me how you notice & celebrate. I'd love to hear!
Keep noticing and respond boldly,
Marie
---
Save this by pinning:
Hey Storyteller... Pick one and pass this onto a friend: